Swyftx Review: Best Exchange for Aussies
Voted the #1 crypto exchange for Australians
March 21, 2021
Australia's favourite crypto exchange
---
Our Verdict
Swyftx is hands down the best cryptocurrency exchange to use in Australia. Instant withdrawals & deposits, low fees, great customer support, and an easy-to-navigate platform are just a few perks of using this exchange. Overall they offer the full package while backing it up with incredible customer service.
---
Pros:

Huge range of 245 cryptocurrencies

Instant withdrawals

Excellent customer service
Cons:

Not available in many countries
Launch Date: 2019 | Transaction Fees: 0.6% | 24/7 support: Yes | Supported Cryptocurrencies: 245 | Supported Fiat: AUD | Mobile App: Yes | Based In: Australia | Demo Trading: Yes | KYC: Yes 
Swyftx offers a complete package for traders
When using Swyftx you can't help but feel relieved that everything is right where it should be. The platform is strategically designed to ensure that the customer has the best experience possible while trading crypto.
There's absolutely nothing worse than signing up for an online service only to realize that trying to navigate the platform is like trying to read brail with gloves on...
Two friends from Australia with a passion for cryptocurrency realized that if cryptocurrency was going to see widespread adoption, the exchanges and platforms at the time weren't going to cut it.
Soon after, Alex Harper and Angus Goldman got to work on building a completely user-friendly crypto exchange for Australians.
Swyftx was launched in 2019 and has since seen massive growth in the Australian market.
Let's see how two uni students built and scaled the largest cryptocurrency exchange in Australia...
The Swyftx Platform
The platform has clearly been designed with the customer in mind. Upon logging in to the dashboard, you are greeted with a clean, neat, and designed exchange—no unnecessary popups or tools trying to grab your attention.
From a single glance, you can view your portfolio, favorited coins, and top winners/losers of the last 24/hours. 
As you can see, everything is where you'd expect it to be. No more pulling your hair out over trying to make a simple deposit or withdrawal.
Honestly, what else could a crypto trader need?
One of the platform's really cool features is visually seeing your portfolio in pie chart form with the overall growth % displayed directly underneath. This is one of those features you didn't realize you were missing until it showed up. Nice!
Is Swyftx Trustworthy?
Glad you asked... Swyftx happens to have one of, if not THE best, customer review profiles of all cryptocurrency exchanges. 
Trustpilot, the world-renowned customer review analyzer, has given Swyftx a huge 4.8 Star rating with 1970 customer reviews.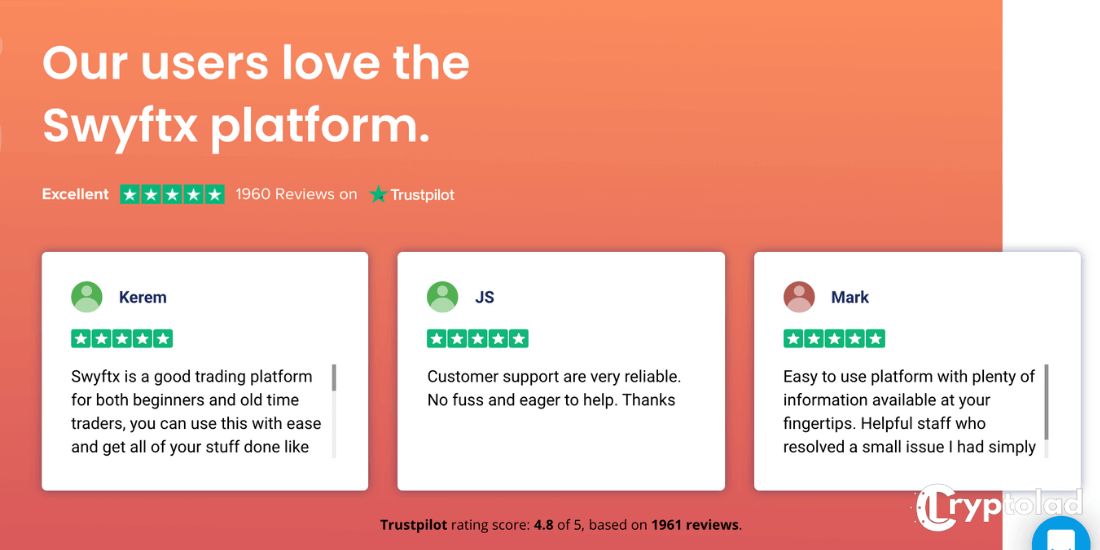 To give you a comparison, Binance, the world's largest cryptocurrency exchange, only managed to scrape together a measly 2.0 Star rating on Trustpilot.
It's not hard to see that Swyftx really values and puts its customers first.
Their incredibly high star rating can largely be attributed to the simplicity and transparency of the platform. They make sure you know exactly what you're getting into before you make a trade or withdrawal.
By eliminating the initial confusion suffered by beginner crypto investors, they've effectively saved their customers millions of dollars.
So you know you can trust Swyftx, but how secure is the platform? Can their security systems really keep your investments safe?
Let's have a look...
Is Swyftx Safe?
Swyftx is registered and regulated by AUSTRAC, an Australian government agency responsible for organized financial crime prevention.
As a government agency, you know they aren't doing their licensees any favors. 
Swyftx must comply with AUSTRAC's rigorous security measures in order to maintain its DCEP license.
Like any crypto exchange, Swyftx takes its security extremely seriously.
KYC and 2FA have become the bare minimum throughout the crypto industry.
If your wallet or exchange isn't offering these precautions, then you need to look elsewhere.
With that said, Swyftx has made KYC mandatory before you begin any trading activity, with 2FA being highly recommended.
You will need to verify your email, phone number, ID, and facial recognition before you can access the features of Swyftx. This is all to ensure maximum security of the exchange.
Swyftx has also incorporated multi-factor 2FA and biometric logins for those who wish to take their account security to the next level. This means you can sign in with your phone's facial or fingerprint recognition software, pretty cool, right!
The exchange has also said they consult with third-party security auditors regularly to identify any possible weaknesses in their systems.
To date, Swyftx has not had a data breach.
So yes, Swyftx is as safe as they come in terms of cryptocurrency exchanges.
One of the big questions when deciding which cryptocurrency exchange to sign up with is the transaction fees. You want to get the most bang for your buck.
So let's take a look at Swyftx's fee table.
Swyftx Fees
You may be surprised to hear that Swyftx offers some of the best fees on the market. The most you'll be pay per transaction is 0.6% which is well below the market average.
 
In this table, we can see how Swyftx's transaction fees stack up to other crypto exchanges.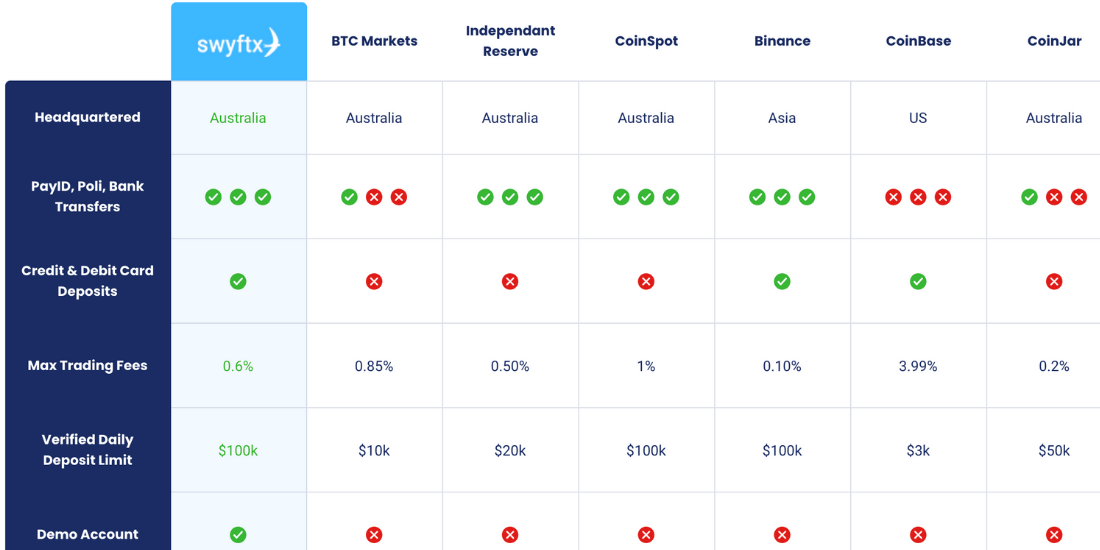 As you can see, Swyftx stacks up pretty well when compared to its competitors.
While Swyftx offers low transaction fees, they also have some of the lowest spreads (the difference between the buy and sell price of an asset) in the market at an average of 1.7% compared to their competitor average of around 4%. 
If you're an active crypto trader, you can really profit over the long-term while trading with Swyftx due to these low spreads and fees, which inevitably add up over time.
Does Swyftx Have an App?
In this day and age have a well-designed mobile app is essential.
A recent study found that 54.5% of all internet traffic comes in the way of mobile phone usage. 
Therefore, it makes sense for companies to put maximum effort into creating a flawless mobile app. Swyftx has done just that.
The Swyft mobile phone app is even easier to navigate than their desktop platform, and that's saying something.
All features found on the desktop site can be found on the mobile app. This includes full trading access, withdrawals, deposits, and fully functional charts for those who want to conduct some quick technical analysis while on the go.
As you can see, the app is very clean and easy to navigate. You'd almost expect an app with this many tools and features to be very clunky to use. 
Surprisingly the app is really smooth and responsive. You can really tell the Swyftx development team has put a lot of hard work into making the app perfect for customers.
Swyftx Bonus Features
Swyftx offers several cool and unique features, but our favorites would have to be their demo trading platform and the dusting feature.
•Demo Trading Mode
Swyftx allows you to put your account into 'demo mode' where you can use the platform exactly like the real platform, except you won't be risking your capital. 
This is perfect for beginners to sharpen up their trading skills and get used to the platform before they start risking their own money.
You can put your account into demo mode easily by logging into the Swyftx dashboard and toggling the switch on the top right shown above.
You'll know your account is in demo mode once you see the yellow and black stripe across the top of the window.
•Customisable Dashboard
Another awesome unique feature that Swyftx offers is the ability to customize the layout of your dashboard. 
This way, you can choose exactly which information you wish to see upon logging in. Pretty cool, right!
You can drag and drop sections to where you want them or choose to hide them completely. Once you hit save in the top right corner, your dashboard will remain in your chosen layout until you decide you'd like to change it around again.
This is an incredibly unique feature that is very rare to see with crypto exchanges. 
It's extremely convenient, after all, who knows which information you'd want to see better than you?
Is Swyftx Available in New Zealand?
Yes! Swyftx caters to our Kiwi brothers and sisters with their swyftx.com/nz site.
As Australia and New Zealand both have very similar regulations regarding cryptocurrency and finances in general, Swyftx is a great exchange for New Zealand residents.
Here's a look at Swyftx's NZ site...
As you can see, Swyftx takes a different approach to how they market themselves. And it works... it feels authentic.
This is a breath of fresh air, unlike most investment and financial companies who layer on the same tried and tested sales pitches where you can almost physically feel them trying to take your wallet.
So, if you're from New Zealand and are thinking about getting into crypto, I would highly recommend trying Swyftx out. Their 1960 happy customers can't all be wrong.
Signing Up With Swyftx
Signing up with Swyftx is relatively easy, it's the same as signing up with Facebook or Twitter.
A few things you're going to need are:
•Email address 
•Personal information (name, DOB)
•Contact information
•Residential address
Simply click the button below to be taken straight to their sign-up page.
After initial sign-up, you will need to confirm your email address and phone number before you gain access to the exchange. This usually only takes a few minutes.
Okay, you've officially signed up and confirmed your contact information. You have access to the platform, but you are still restricted to certain exchange features, including deposits, buying, selling, and withdrawals.
KYC Verification
To access these features, you will need to complete a KYC verification.
Here's what you'll need for your KYC verification:
•Photo ID (driver's license, passport, etc.)
•Personal information
•Residential address
While on your Swyftx dashboard, select 'Profile' then select 'Verification' in the dropdown menu.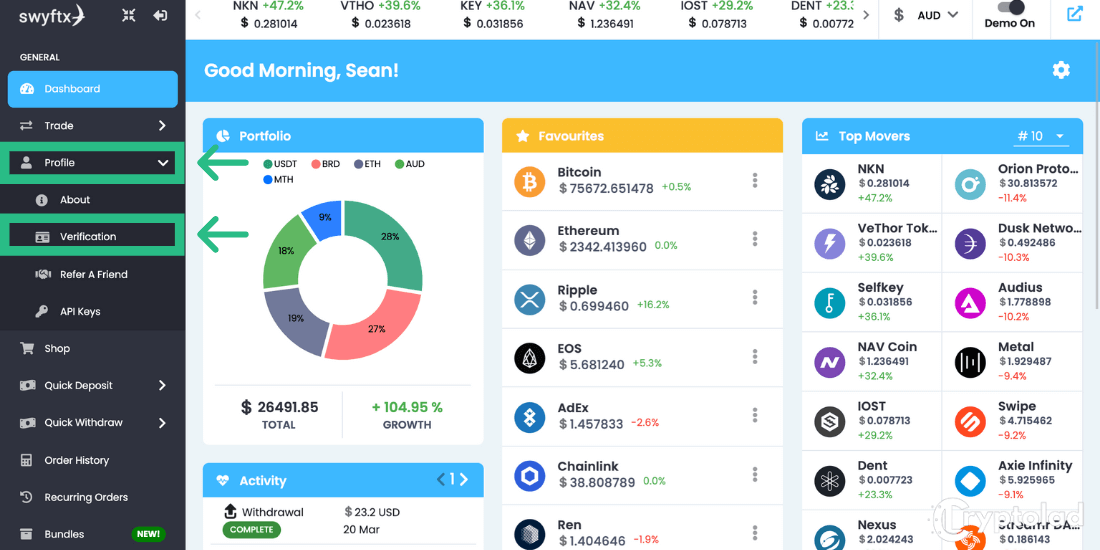 This will take you to the KYC verification page that looks like this.
Click on the lock and follow the prompts to complete your KYC verification.
The Swyftx KYC verification process takes about 5 minutes to complete and around an hour to be reviewed by a staff member.
Once reviewed, you will receive an email informing you whether you've passed or failed KYC verification.
If you failed, they will let you know which additional information they may need to confirm your identity successfully.
Once you've passed KYC, congrats! You can begin trading!
Now let's get you started...
How to Deposit on Swyftx
Swyftx offers the option between depositing with AUD or any supported cryptocurrency.
•Depositing with AUD
Depositing on the Swyftx is really easy. You have many different payment options to choose from, including:
•Bank transfer (Instant with Osko)
•PayID (Instant)
•POLi (Instant)
•Credit card (usually instant)
1. Select 'Trade' from your dropdown menu
2. Select 'Deposit'
3. Choose your preferred payment method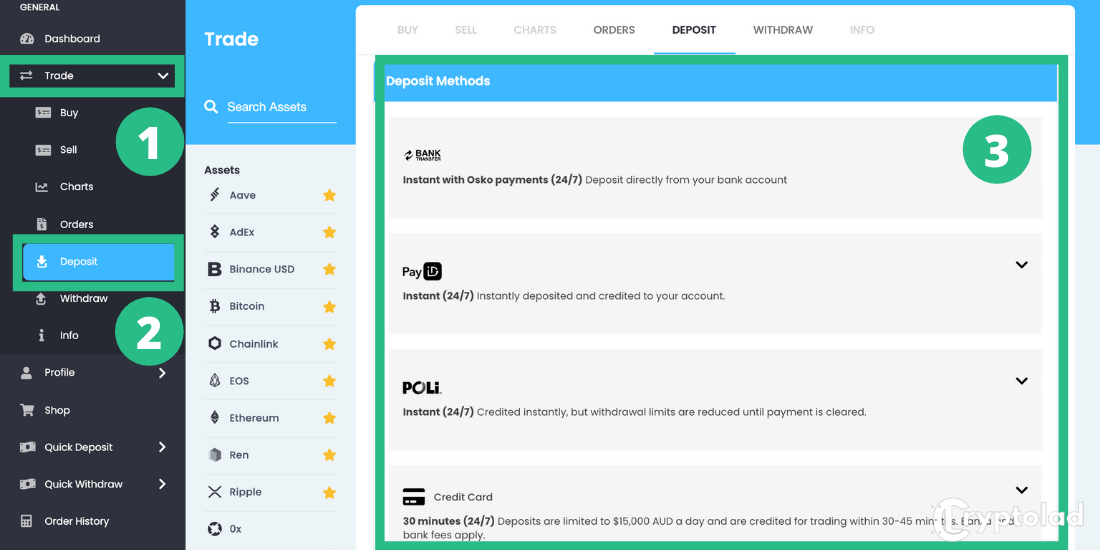 Select your preferred payment method and follow the prompts to complete your deposit.
•Depositing with Cryptocurrency
Depositing crypto on Swyftx is also an extremely simple process.
1. Select 'Trade' from your dropdown menu
2. Select 'Deposit'
3. Choose your desired cryptocurrency from the list
4. Generate and copy your depositing address
Once you've copied the depositing address generate by Swyftx, you'll need to head to where your crypto is currently being stored and send your desired amount to this address.
NOTE - Always triple-check to make sure that this address is correct as this transaction is irreversible!
How to Buy and Sell Crypto on Swyftx
So you've finished depositing your funds, and you're ready to start your crypto trading journey, funnily enough, the hardest parts are already over, and it's a fairly simple process from here on.
Once you've thoroughly researched the market and have decided which cryptocurrencies you'd like to invest in, you can then head to your Swyftx dashboard and start trading. If you're new to crypto and would like to learn how to pick cryptocurrencies to invest in, you can download our free cryptocurrency guide here.
•Buying Cryptocurrency
1. Select 'Trade' from your dropdown menu
2. Select 'Buy'
3. Choose your desired cryptocurrency from the list & select how much you'd like to purchase
4. Click the 'Instant Buy' button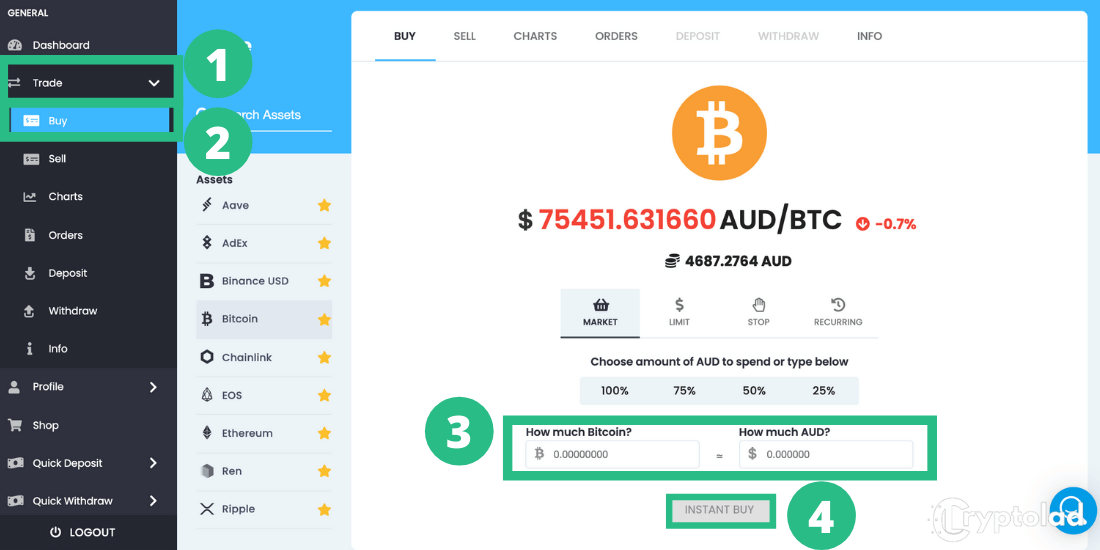 After doing this, you will be asked to confirm your trade and whether you'd like to proceed.
Click 'Confirm Buy' to complete the trade.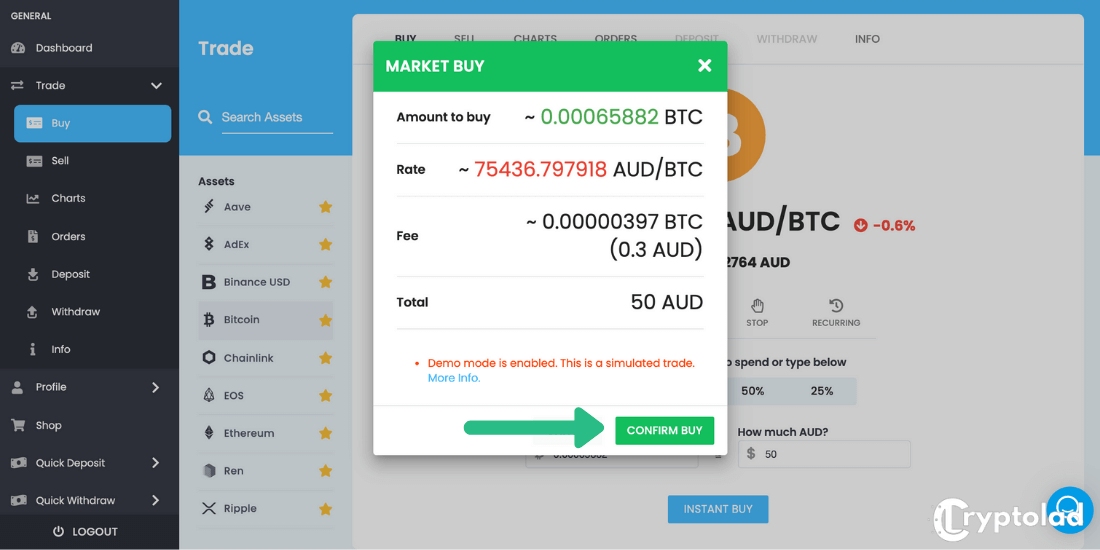 Congratulations! You've completed your first trade using Swyftx. This is called a 'Market Order' because you've bought the cryptocurrency at the current market's price. 
There are a few different order types that Swyftx supports, which we will be covering later in this review.
Now that you've completed your trade, your crypto will be credited into your account within minutes. This crypto is now being stored on Swyftx's online wallet.
•Selling Cryptocurrency
Selling crypto on Swyftx is almost identical to buying crypto and is just as easy.
After you've decided which cryptocurrency and the amount you'd like to sell, you can proceed to the dashboard.
1. Select 'Trade' from your dropdown menu
2. Select 'Sell'
3. Choose the crypto and amount you'd like to sell
4. Click the 'Instant Sell' button
You'll then see this window popup to confirm your sale. Ensure to double-check the figures because this transaction can't be reversed.
Once you're confident that the order details are correct, click 'Confirm Sell.'
Your order will then be completed within minutes, and your AUD will be shown in your account balance and portfolio.
How to Withdraw on Swyftx
So you've completed your trades, and you either wish to withdraw your profits in AUD, or you'd like to move your crypto into your personal crypto-wallet for safekeeping.
Luckily for you, this process has been made extremely easy by the team at Swyftx.
They provide multiple withdrawal methods, with most of them being instant.
•Withdrawing AUD from Swyftx
Again, withdrawing is a very similar process to depositing and trading. This is why Swyftx is so easy to navigate, everything is where you expect it to be, and they don't overcomplicate the processes.
To withdraw AUD from Swyftx, you will need to head to your dashboard and:
1. Select 'Quick Withdraw from your dropdown menu
2. Select 'Withdraw AUD'
3. Click on the '+' to enter your bank account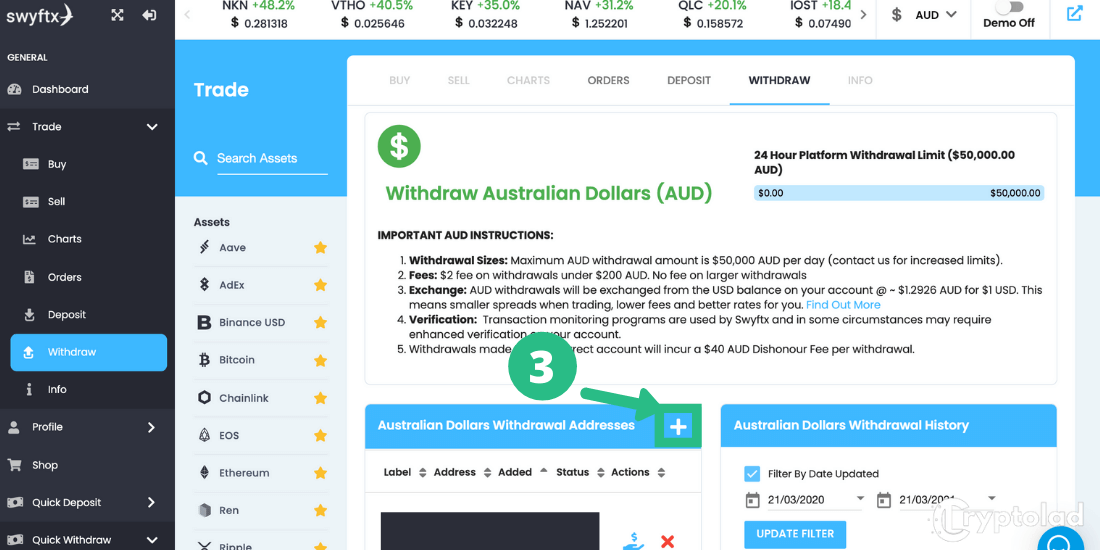 4. Enter your bank details
5. Click 'Add' and wait for the confirmation
Once you complete adding your bank, you will have to confirm the account by email.
After confirming your new bank by email, head back to the dashboard, and you will see your newly added bank account listed.
6. Head back to the withdrawal page and click on the 'hand icon'
7. Select how much you'd like to withdraw and your reason for withdrawing
8. Finally, click 'Withdraw'
After completing the withdrawal process, your funds are usually credited to your bank within minutes. The fiat withdrawal speed of Swyftx is one of their standout features. Withdrawing from other exchanges can take up to a few days due to them based internationally.
•Withdrawing Crypto to Wallet
Withdrawing crypto from Swyftx to a wallet is really simple. However, you're going to need your receiving wallet address. This process differs between devices but don't worry, I'll walk you through it.
If you don't have an external crypto wallet yet, we highly recommend investing in one, as this is the most secure way to store your cryptocurrency. Here's a list of the best crypto wallets in 2021.
Now that you have your wallet let's generate your receiving address...
Getting your wallets receiving address
1. Load your wallet app on your computer or phone
2. Locate and click on 'Receive'
3. Select the asset you'll be receiving, such as Bitcoin, Ethereum, XRP, etc
4. Click 'confirm' on the app
5. Your wallet will prompt you to confirm this externally via email, phone, or by using the device itself
6. Once you've completed confirmation, your wallet app will generate your receiving address
7. Copy the address from your wallet app and head to the Swyftx dashboard
Now that you have your wallet's receiving address, I'll show you how to withdraw your crypto from Swyftx to your external wallet.
1. Select 'Trade' from the side menu
2. Select 'Withdraw'
3. Pick the asset you'd like to withdraw from the asset list
4. Click on the '+' to add a new withdrawal process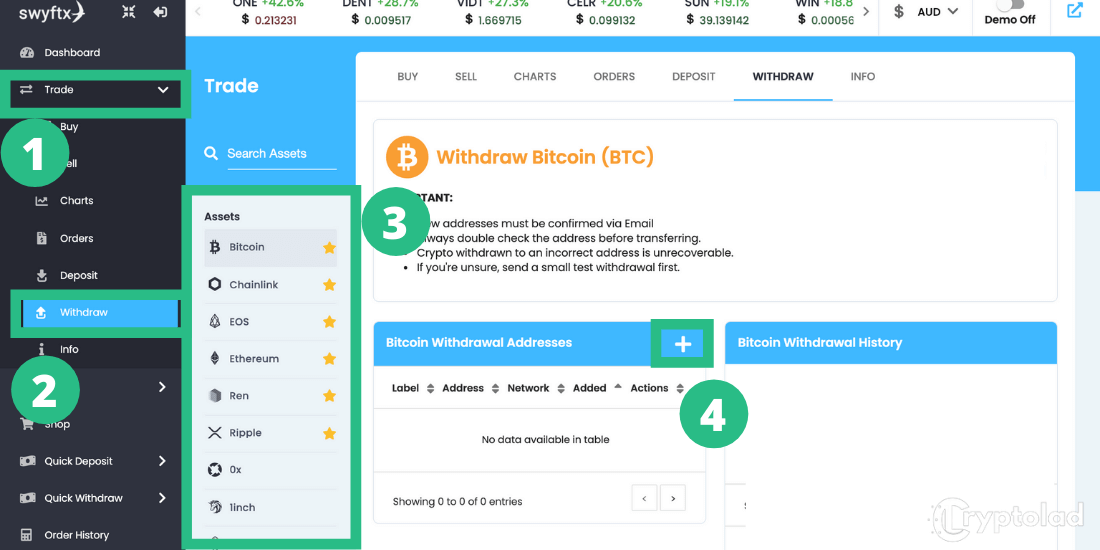 5. Enter your wallets name and your receiving address that we generated earlier (always double-check your address when dealing with crypto)
6. Click 'Add'
Once you've added your new withdrawal address, you'll have to confirm it by email as a safety precaution, head to your inbox, and confirm the new withdrawal address.
7. After confirming the address, go back to Swyftx and click on the 'Withdraw Icon' shown below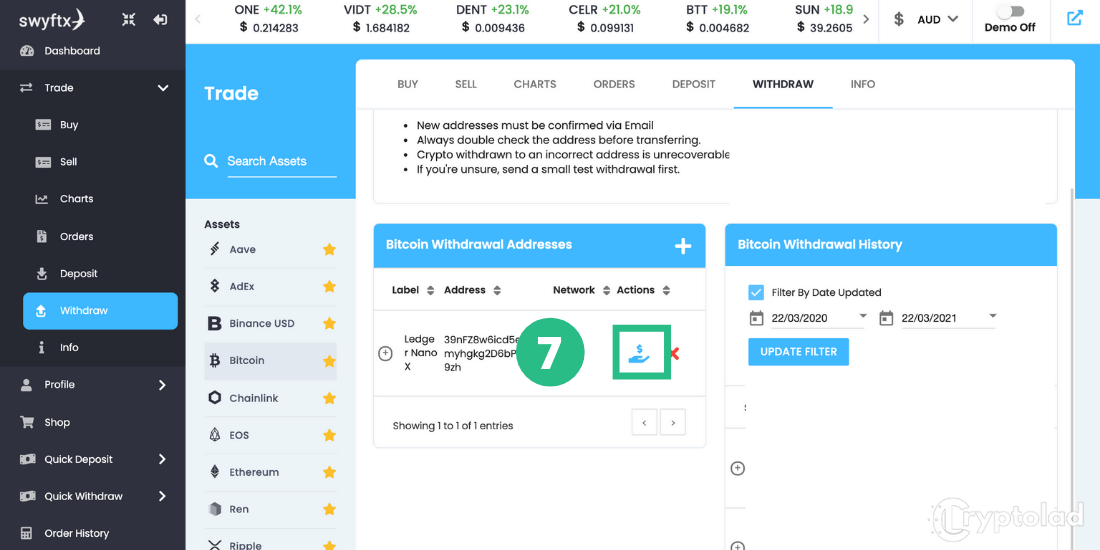 8. Enter the withdrawal amount in either crypto or AUD
9. Finally, click 'Withdraw' to complete the withdrawal process
After clicking 'Withdraw,' the withdrawal is now being processed. It could take a couple of minutes for the funds to reach your wallet, depending on how busy the network is at the time. 
Once the funds reach your wallet, you're all done. Your cryptocurrency is now being stored in the most secure way possible. Good work!
Swyftx Vs Coinspot
So, the battle of the Aussie exchanges, on the left, we have the new kid in town being Swyftx, on the right, we have the veteran Australian exchange in Coinspot...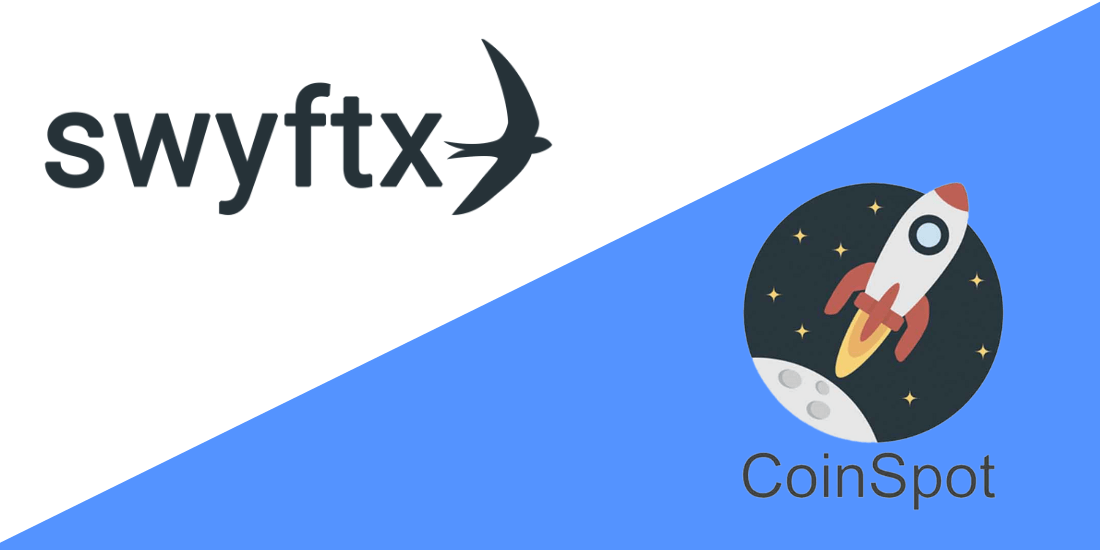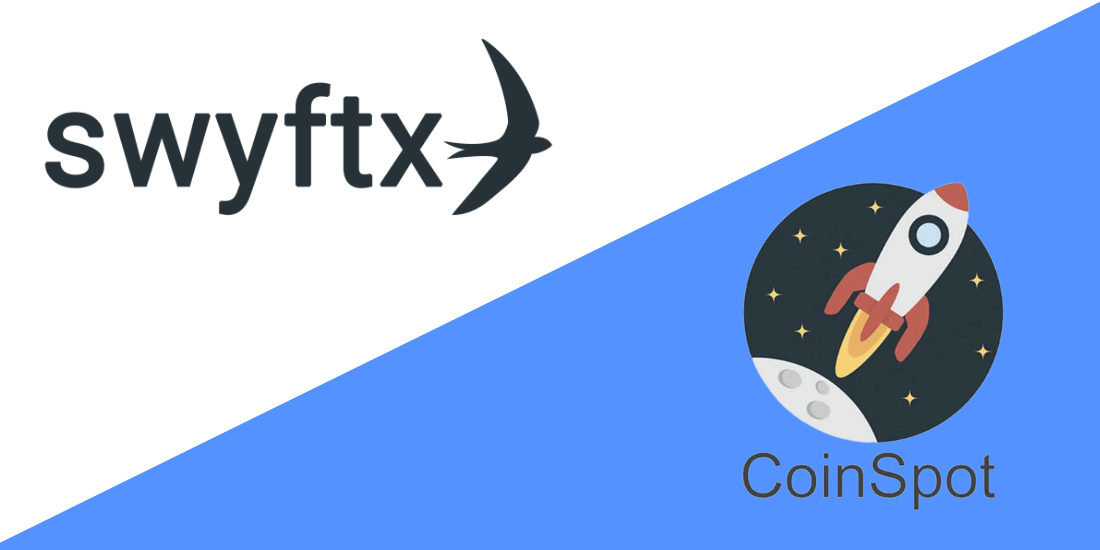 Coinspot was first launched in 2013, while Swyftx only entered the crypto market 6 years later in 2019.
However, the volatile and fast-changing nature of the cryptocurrency market makes it possible for smaller companies to out-compete larger, more established companies.
Smaller companies can do this by method of innovation in a market that is still in its infancy with massive untapped potential.
For example, if you look at Binance, launched in 2017, making the exchange only 4 years old, yet it has become the largest crypto exchange in the world.
Age is really just a number when talking about crypto...
So, which exchange is better, Coinspot or Swyftx? 
I'll break the comparison down into 5 sections, fees, supported cryptocurrencies, trading platform, withdrawal speeds, and mobile app quality.
Let's take a look...
Swyftx vs Coinspot: Fees
The fees are pretty similar across the board for both exchanges. However, Coinspot has a relatively higher maximum fee of 1%, where Swyftx will only charge you a maximum of 0.6% per transaction.
Verdict: More or less the same, with Swyftx having a slightly lower maximum fee of 0.6% instead of Coinspot's 1%.
Swyftx vs Coinspot: Supported Cryptocurrencies
Both exchanges offer a massive range of supported cryptocurrencies, which is great for altcoin traders. Currently, Swyftx offers a total of 245 supported cryptocurrencies, while Coinspot offers 264 on its platform.
Verdict: Both offering a similarly massive range of coins, with Coinspot offering an additional 19.
Swyftx vs Coinspot: Trading Platform
You can really tell both exchanges have tried to design a simple and easy to navigate trading platform for their users, and it really shows.
The Swyftx and Coinspot platforms allow you to view your entire portfolio, including growth % on the dashboard, which is extremely convenient for doing quick checkups.
Coinspot has a cleaner, more professional-looking platform when compared to Swyftx's casual layout approach.
Swyftx's dropdown menu is much easier to navigate when trying to deposit, withdraw and make trades. Everything is positioned where you'd expect it, which really reduces any confusion you may have as a first-time user of the platform.
Verdict: Swyftx's platform is much easier to navigate, while Coinspot has taken a more professional approach while designing its platform's layout.
Swyftx vs Coinspot: Withdrawal Speeds
This is where Swyftx really shines, they offer instant withdrawals on most fiat withdrawal methods. This makes them extremely convenient to trade with if you need to quickly more funds for any reason.
Coinspot is a bit slower when it comes to withdrawals, on average, you can expect to wait up to 2 business days to receive your funds.
Verdict: Swyftx's instant withdrawals make them an easy winner for this category.
Swyftx vs Coinspot: Mobile App
Both exchanges offer well-developed mobile apps, which is almost expected in this day and age, with the majority of internet users being mobile.
Verdict: Swyftx and Coinspot both have excellent apps, with Coinspot taking a more professional approach while Swyftx takes a more casual approach to design, which is much easier to navigate.
Swyftx vs Coinspot: Overall
After conducting this comparison, it's hard not to notice how similar these two exchanges are. Both exchanges offer nearly identical fees, cryptocurrencies and have very similar platforms.
Verdict: I would happily use either exchange, and I do. However, Swyftx's instant withdrawals make them a more convenient exchange to use.
In this day and age, everything is about speed. We like things to move quickly and aren't accustomed to waiting around.
Who Should Trade With Swyftx?
It's important to know which cryptocurrency exchange is right for you. All exchanges offer their own unique set of features based on who their targeted customers are.
Swyftx is perfect for beginner to intermediate-level crypto traders. As a beginner, you can sharpen your trading skills and get used to the market using the Swyftx demo trading platform.
In addition, the platform has been designed with the user in mind, and you should have no trouble navigating your way through the exchange.
Swyftx also offers stop loss and takes profit orders for those who want to get more technical with their trading.
However, if you're an advanced level trader or day trader, you are somewhat restricted to your trading options as Swyftx does not offer margin trading or a shorting option.
If you're looking for an easy-to-navigate exchange that provides all the basics with outstanding customer service and arent too fussed on technical trading options, then Swyftx would be perfect for you.
Invest Australian Super in Bitcoin With Swyftx
Swyftx has recently partnered with New Brighton Capital to allow Australians to invest their superannuation into Bitcoin and other cryptocurrencies.
If you're an Australian and would like to invest your superannuation into Bitcoin, you can do so with Swyftx.
To be eligible to invest your super into Bitcoin or other cryptocurrencies, you will need to hold a SMSF (Self-managed super fund).
To read more about how you can invest your super into cryptocurrency, read this.
What We Think About Swyftx
Swyftx is still a relatively new exchange, only being in the market for 2 years.
However, in these 2 years, Swyftx has managed to do what most exchanges haven't done in almost a decade. I would attribute a lot of this success to them starting small.
Swyftx didn't try to provide a mediocre service to the entire world, they decided to provide an excellent level of service exclusively to Australians.
As a result, they now have one of, if not the best, customer review resumes in the entire crypto exchange market.
In a recent tweet by Swyftx, they announce they are breaking into the international market, a move that seemed inevitable when watching their growth rate.
We truly believe that if Swyftx can maintain their current path and vision within the international markets, then they have the potential to become one of the largest cryptocurrency exchanges in the world.
Swyftx - Australia's #1 Crypto Exchange
Designed by Australians, for Australians. Swyftx is giving fellow Australians a leg up when it comes to crypto by providing excellent customer service, instant deposits/withdrawals, and supporting over 240 cryptocurrencies to trade while charging some of the lowest fees in the market of only 0.6%.