How To Buy Bitcoin In Australia: Step By Step
Fair dinkum, it's pretty easy after all
June 19, 2021
Howdy Howdy!
As a proud Australian-owned website, we felt obliged to give our fellow Aussies the upper hand when it comes to cryptocurrencies. 
I'll let you in on a little secret that most financial experts or economists won't tell you... Cryptocurrency is not complicated. It's actually a fairly straightforward concept once explained correctly. 
The best thing? By knowing what cryptocurrency is and how it works, you're already ahead of 98% of all Australians, and when it comes to cryptocurrency, the early bird does, in fact get the worm...
Let me explain how to buy Bitcoin in Australia...
Definition Of Cryptocurrency
A cryptocurrency is a self-regulating digital currency that uses cryptography to verify transactions rather than a central entity or government.
Pros

International Transactions in Minutes

Completely Anonymous

Huge Investment Potential

Decentralized Monetary System

Incredibly Low Fees Internationally
Cons

Irreversible transactions

Limited acceptance among retailers
Cryptocurrency Explained Simply
Don't worry, I'm not going to bore you with the technicalities of cryptocurrency.
Instead, I'll let you in on the fundamentals of cryptocurrencies, which is pretty much all you need to know if I'm completely honest.
So, as mentioned earlier, a cryptocurrency is a decentralized digital currency that runs on a blockchain.
This means that, unlike the Aussie dollar governed by the RBA (Reserve Bank of Australia), cryptocurrencies have no central government. Instead, they are governed by a distributed tamper-proof ledger that uses cryptographic algorithms to keep track of transactional data. This is known as a 'Blockchain.'
Here are the main difference between the Dollar and Bitcoin...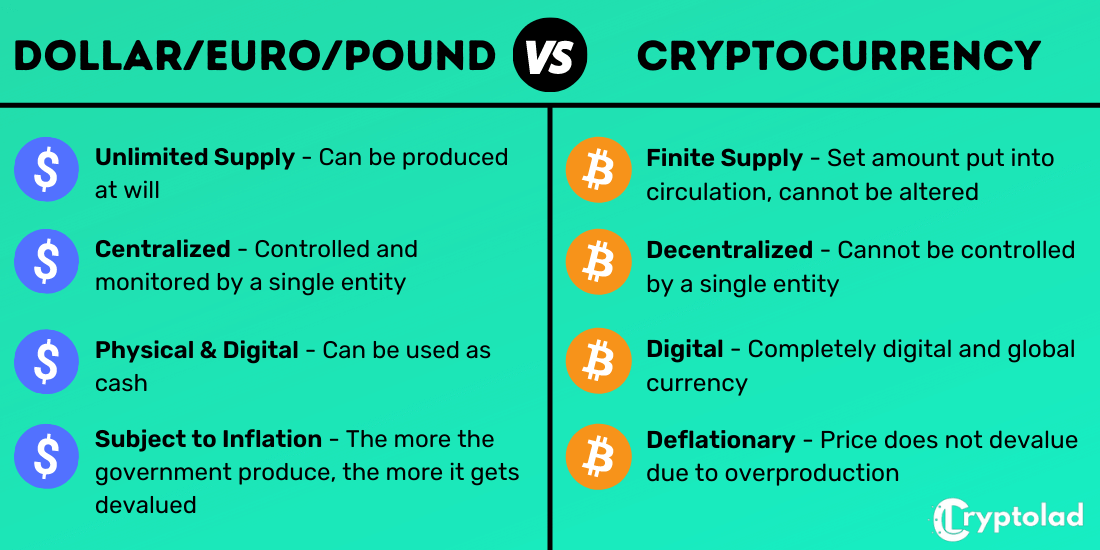 Transactions & Fees
Cryptocurrencies are run by math and algorithms, not humans. They essentially distribute the power equally among the public instead of having all the power stored in the hands of a single central authority.
When making a transaction with a fiat currency (Dollar, Euro, Pound, etc.), your transaction is intercepted by a central authority to be audited. The transaction fee will be calculated and deducted from the transaction. Fees differ based on distance, exchange rates, and size of the transaction.
In comparison, when making a transaction with cryptocurrencies, transactions only require the sending party and the receiving party to take place. A flat fee is incurred no matter your location. 
Here's how cryptocurrency transactions work...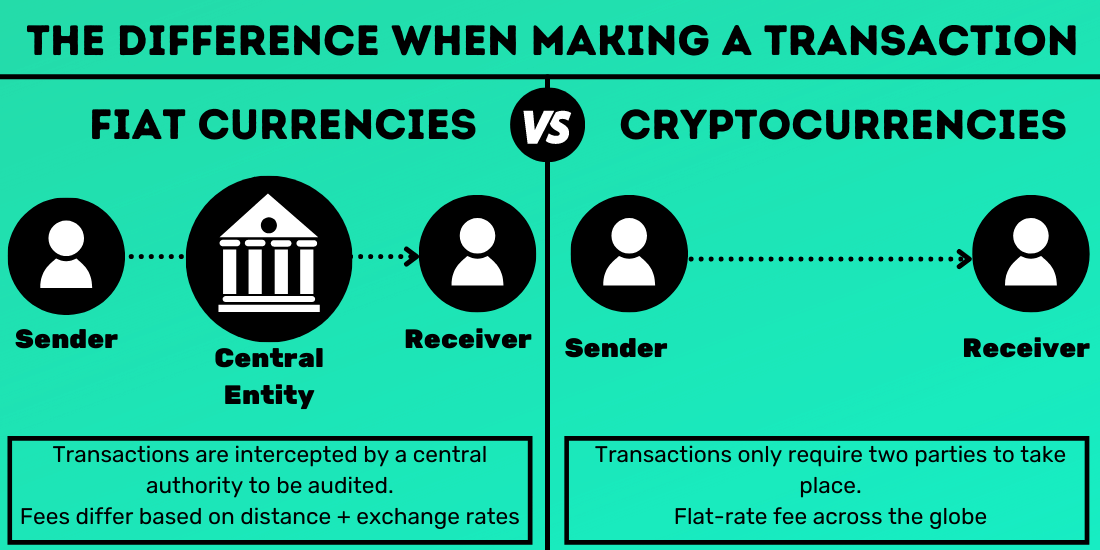 You can benefit from this because you will pay far less in fees when sending money internationally. The transactions generally take minutes instead of a few business days.
Okay, so now that we've covered the fundamentals of cryptocurrency and you've formed a basic idea of how it all works, but you've probably still got a few questions, "is it safe? is it legal? what do I even use cryptocurrency for?".
Don't worry, I'll answer all your questions in the next few minutes, let's have a look.
How to Buy Bitcoin in Australia
There are many ways to buy cryptocurrency in Australia, however, some methods are harder than others.
This is the safest and easiest way to buy Bitcoin in Australia...
Step #1

| Sign Up at an Exchange
There are quite a few cryptocurrency exchanges that cater to Australians although we would recommend using Swyftx as they're an Australian owned and regulated exchange that we have been using for years without any issues.
Create Your Account on Swyftx
To purchase your Bitcoins on Swyftx, you need first to create an account.
Use the link below to go straight to the official Swyftx sign up page.
After clicking the link above, you will be taken to the official Swyftx sign up page, simply fill in the form shown below and confirm your account via email.
After signing up and confirming your account, simply log in to your account and go to step 3.
Step #2

| Fund Your Account
Once signed in you will then need to fund your account.
You can deposit Australian Dollars by selecting POLi Pay, Pay ID, bank transfer or with a credit card.
From the left side menu:
Select 'Trade'
Select 'Deposit'

Choose your desired depositing method from the list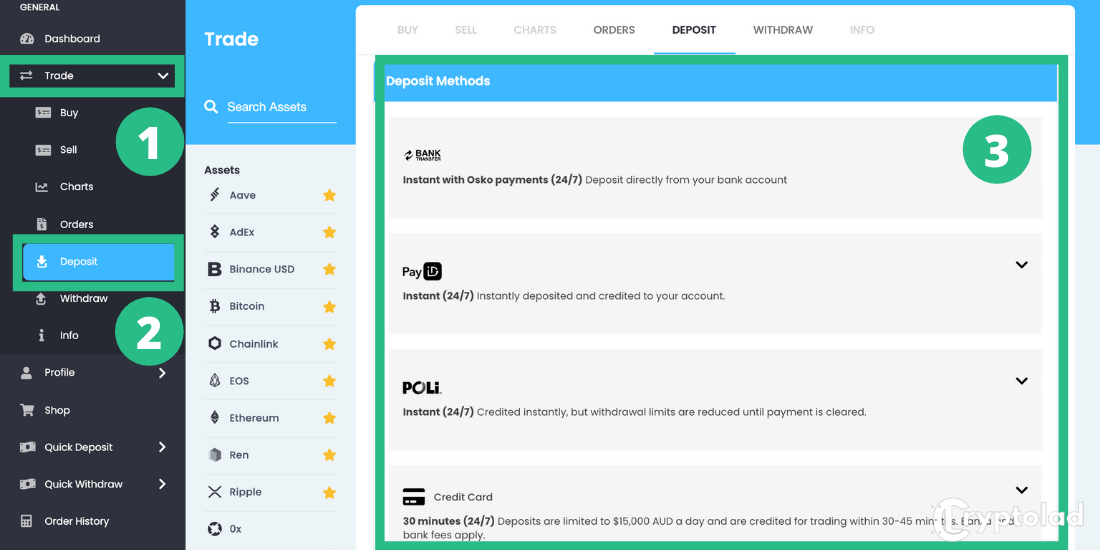 Depending on your chosen banking method, your funds should reach your account within a few minutes. 
Here's how long you might wait for each payment method:
OSKO payments: Instant
Bank Transfer: 1-2 Business days
POLI: 1 Business day
PayID: 1 Business day
Once your funds have been credited to your account you will be notified via Email by Swyftx customer support and you can now continue to Step 3, Buying your Bitcoin!
Step #3

| Buy Your Bitcoin
Once logged in, you'll be taken to your Swyftx dashboard.
From the sidebar menu, select 'Trade'
Select 'Buy' you will now be taken to Bitcoin's order page

You have the choice to either type in how much AUD or how much Bitcoin you'd like to purchase, choose whichever is easiest for you.

Select 'Instant Buy'
Select 'Confirm'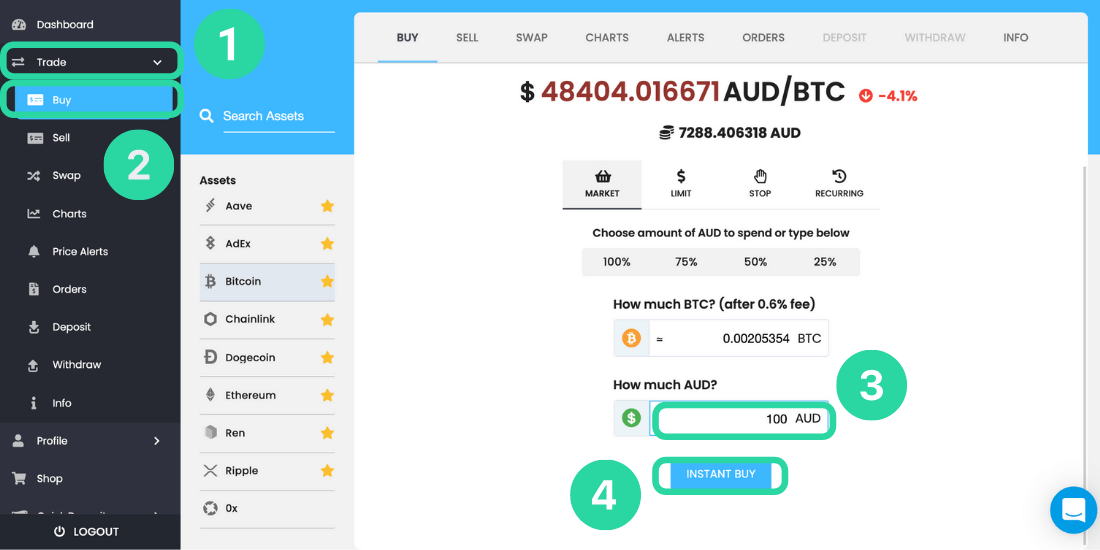 Congratulations! You are now the proud owner of Bitcoin!
Yes, it's really that easy...
So, Where is Your Bitcoin Now?
Glad you asked! Your Bitcoin is now being safely stored on Swyftx's secure wallet.
You can view your balance anytime by returning to your Swyftx dashboard. Your balance and investment portfolio can be found in two places.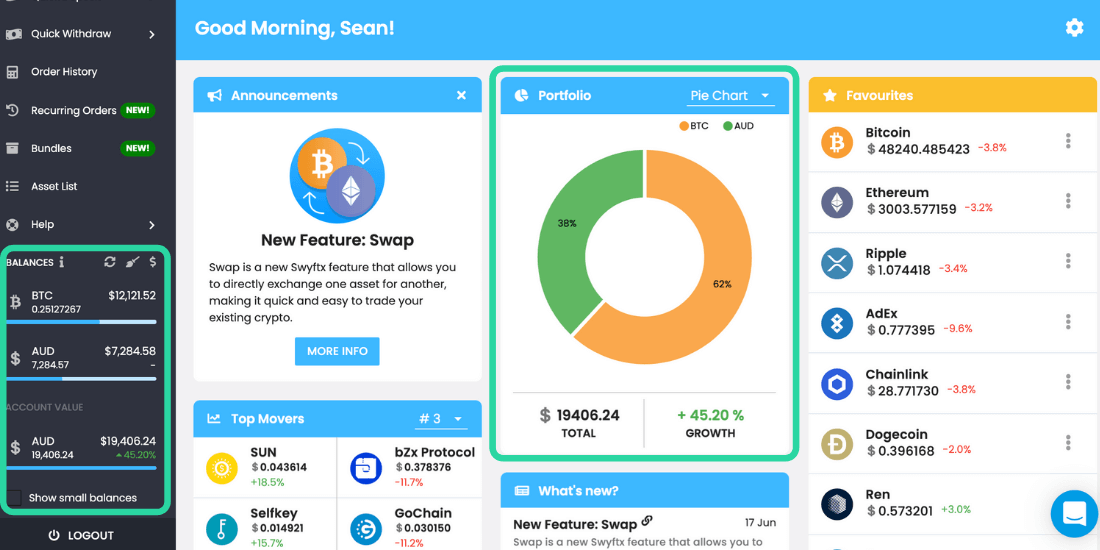 Can You Buy Other Cryptocurrencies Except Bitcoin?
Of course! If you'd like to purchase another cryptocurrency like Ethereum or Dogecoin for example, simply repeat the steps above and choose your desired cryptocurrency for the list!
Nice! Let's Keep Learning...
Now that you know how to buy cryptocurrency in Australia, you are probably wondering what you should do with them.
Well, as cryptocurrencies become more and more popular in Australia, so too does the range of things you can spend your digital currencies on.
From paying for your morning coffee and buying groceries at the local stores to serving as a highly rewarding investment tool.
Is Cryptocurrency Safe for Australians?
Ah yes, the question that's been quietly echoing in the back of everyone's head.
Is cryptocurrency safe?
I mean, it's computer money after all, can't it be hacked or something? 
The answer...
Cryptocurrency is no more dangerous than the Australian Dollar. 
With the dollar, you use a wallet to store your cards and cash. The same goes for cryptocurrency, you use a cryptocurrency wallet to store your cryptocurrencies.
The only way your cryptocurrency could be stolen is if somebody gained access to your "private key," which would be the equivalent of somebody gaining access to your credit card details.
In all honesty, a cryptocurrency wallet is far more secure than your regular physical wallet due to the multiple security measures in place.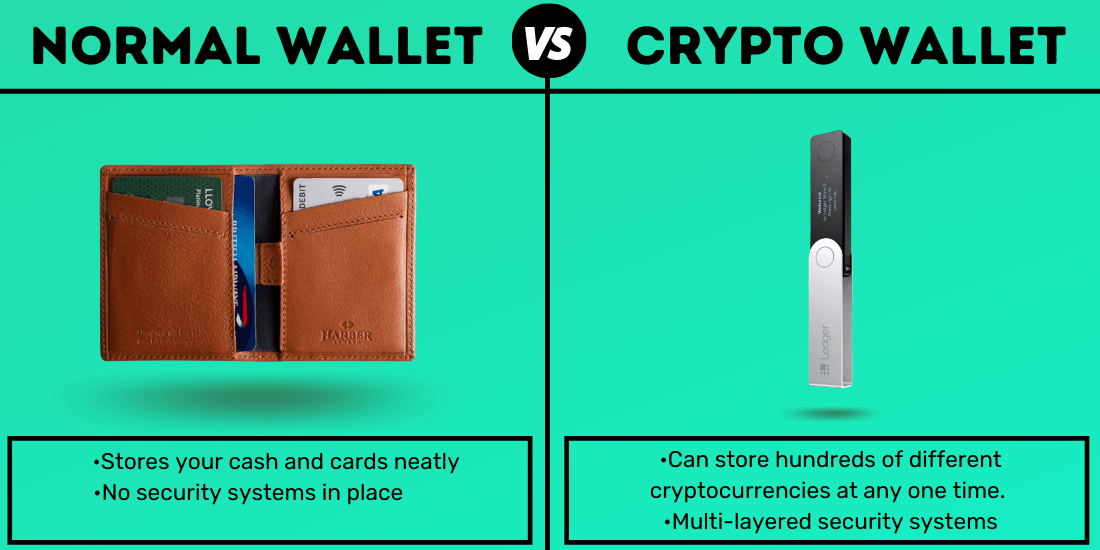 For example, when accessing your cryptocurrency wallet, you will need to verify your identity and confirm the transaction before any funds will be moved.
Even If somebody got a hold of your cryptocurrency wallet, they still wouldn't be able to access the funds inside without your confirmation.
In comparison, if somebody got ahold of your credit/debit card, they could keep racking up charges until the limit is reached or you cancel the card, which is usually too late.
Now that you know that cryptocurrency is safe, I'm sure you're wondering whether cryptocurrency is even in Australia...
Is Cryptocurrency Legal in Australia?
In 2017, the Australian government ruled that Bitcoin and other cryptocurrencies, and other digital currencies that share the same characteristics were legal in Australia.
Therefore, Bitcoin and other cryptocurrencies are legal in Australia.
However, they are not classed as currency because they are not backed by the RBA, instead, they will be treated as property. Therefore cryptocurrencies are subject to Capital Gains Tax (CGT) instead of Goods and Services Tax (GST).
You can read more about what the ATO has to say by clicking here.
Now that we've covered all the important topics, you have a basic idea of how cryptocurrency works, and you know that it's safe to use, and you also know that it's completely legal in Australia. 
Let's get into the juicy stuff, I'm going to explain exactly how Australians can benefit from Bitcoin and other cryptocurrencies...
How Australians can Benefit from Cryptocurrencies
Cryptocurrencies are essentially used for two things.
#1 - Transferring value from one place to another
#2 - A means of investment
First, ill cover how we Aussies can benefit from crypto by using it to transfer funds.
•Faster and Cheaper International Transfers
Have you ever tried to send money to a friend or relative overseas? If you have, you know how much of a headache the process can be.
If you haven't, this is how it usually goes...
First, you'll need to acquire a SWIFT code from the recipient's bank, then get your bank to verify the transaction, pay a pretty hefty transfer fee, then wait up to 5 business days for the funds to reach your friend or family member, which is then converted into their native currency at the current exchange rate which fluctuates during the whole transaction period. It's not fun...
This can be completely avoided by using cryptocurrency. You can use a selected cryptocurrency with low fees.
For instance, you could use the cryptocurrency called TRON. TRON has an average transaction fee of around $0.000105.
You can purchase TRON at a cryptocurrency exchange and send it to your relative overseas, and the transaction will take a few minutes.
Once received, they can then convert their TRON into their native currency for fees as low as 0.1%.
This whole process will take about 10-20 minutes to complete at a fraction of the cost.
Cryptocurrency is a far better way to transfer funds internationally than fiat currencies.
•Using Cryptocurrency Locally in Australia
Due to cryptocurrency and other digital currencies being a fairly new technology, it has not yet seen widespread adoption. This is quickly changing as millions of people jump on board the cryptocurrency ship every month.
With that said, at the moment, not many retail stores will accept cryptocurrency as a form of payment just yet. However, the massive health food franchise Subway accepts Bitcoin as payment at over 1400 of their stores across Australia. If you'd like to see the full list of retailers that accept Bitcoin in Australia, click here.
Now that we've covered how cryptocurrency can be used to send money overseas quickly and for a fraction of the cost let's take a look at how you can use cryptocurrency as an investment tool.
•Investing in Cryptocurrency
It's no secret that there is money to be made investing in cryptocurrency.
In 2018, Bitcoin was trading at $9340. Just over 3 years later, it's now trading at over $70,000.  You don't need to be an expert investor to see that's a pretty incredible ROI.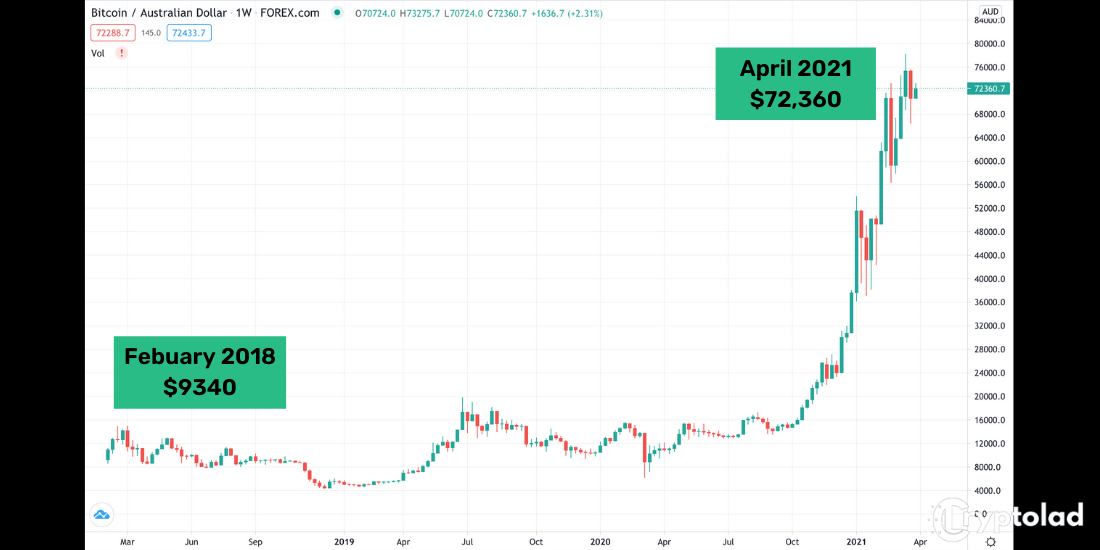 However, the crypto market can be extremely volatile at times.
There have been multiple instances where the price of bitcoin has dropped 50% overnight.
Although this hasn't happened since 2017, in 2021, it's still not uncommon to see a 10% swing in either direction within 24 hours.
With that said, the investors who have been able to endure the price swings without selling their position are definitely popping a few champagne bottles right now...
Now, before you go crazy and start throwing money at the crypto market, I'd like to lend some valuable advice. It's guaranteed to save you A LOT of money...
There are over 5000 cryptocurrencies on the market, and about 25 of them have any real long-term potential. 
Cryptolad's Tip: "DO NOT go dumping money into just any cryptocurrency because they've got a flashy website and a catchy pitch about how they're the next Bitcoin.
This is a great way to throw away your money... We've all been there, you see the current trading price at $0.0003, do some quick calculations in your head and immediately start picturing yourself on a beach on some tropical island sipping on cocktails while your personal assistant fans you off with a giant palm leaf... STOP, you know the saying too good to be true?..."
If you're new to cryptocurrency investing, read our beginner guide.
Our guide will show you exactly how to pick safe cryptocurrencies, so you don't end up feeling like an idiot when "The Next Bitcoin" hits $0.
Don't worry, it's completely free.
Now, if you have some investing experience and would like to start investing in cryptocurrency. I'd recommend using Swyftx Exchange, it's by far the best cryptocurrency exchange for Australian users.
Swyftx - Australia's #1 cryptocurrency exchange
Undoubtedly the best exchange in Australia, Swyftx has extremely low transaction fees of 0.6%. High liquidity, and excellent customer service. They also allow you to trade over 250 cryptocurrencies.
So we've established you can directly invest in cryptocurrencies, but did you know that you can invest in cryptocurrencies with your superannuation?
Yep, you heard that right, it's now legal for Australians to elect to have their superannuation invested in the crypto market!
•Investing Superannuation into Cryptocurrency
Australians can now invest their super in cryptocurrency, pretty cool, right! To do this, you will need to apply to take control of your superannuation investment strategy via a SMSF (Self-manage super fund). 
After you apply, you will need to wait for approval from the ATO. Once you have been approved, you can elect to have your existing super balanced rolled over into your new Cryptocurrency SMSF portfolio.
If you're interested, you can begin your application with New Brighton Capital.
Frequently Asked Questions
Our Thoughts on Crypto in Australia
Blockchain technology and cryptocurrency are some of the most remarkable technologies of the 21st century.
By implementing blockchain technology, you can successfully remove the need for a central authority.
In a world screaming for equality, blockchain technology may just be our best bet.
If you haven't yet, I would recommend reading up on blockchain and how it's shaping the world as we know it. Don't worry, we've got your back again... Blockchain: The Revolutionary Technology.
And that's a wrap! We hope our fellow Aussies got some good use out of this article.
---
New to Cryptocurrency?
Download our Free Cryptocurrency Ebook