Coinstash Review
Cryptocurrency Made Easy for Aussies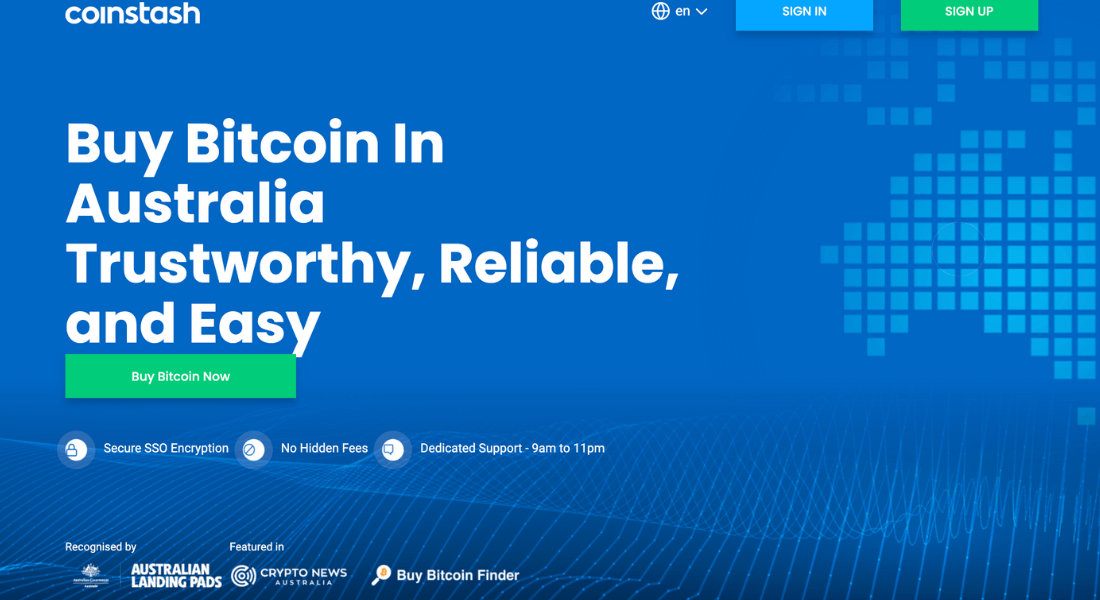 "One of the most simple and straightforward exchanges we've ever seen"
Coinstash Review Verdict
Coinstash is a brand new cryptocurrency exchange based in Australia. The exchange is one of the easiest platforms to use and is perfect for beginner crypto investors.
It's easy to tell that the team at Coinstash value their customers by reading their respectable online reviews.
If you'd like to try your hand at cryptocurrency investing but don't want to get confused with unnecessary tools and features, Coinstash is definitely the way to go.
Launch Date: 2020 | Transaction Fees: 0.85% | 24/7 support: No | Supported Cryptocurrencies: 10 | Mobile App: No | Based In: Australia | Demo Trading: No | KYC: Yes
Coinstash was established in 2020 and is one of Australia's newest and most intriguing digital currency exchanges.
Their platform presently allows customers using Australian dollars to purchase, sell or exchange Bitcoin, Ethereum, and XRP (Ripple) for a very little fee.
The Coinstash owners, Ting Wang, and Mena Theodorou have just raised $2.8 million to continue and scale up their platform.
The pair intends to provide Australians with a solution that will allow them to gain an interest in their cryptocurrencies and to borrow cash from their digital assets.
The Coinstash exchange in Australia is relatively new as compared to others.
Therefore they only currently support the main cryptocurrencies such as Bitcoin, Ethereum, XRP, and a couple of other crypto coins in their simple and convenient to use the digital exchange.
Based in Brisbane, Australia, Coinstash has a clean and easy-to-use interface for both new and experienced investors in the cryptocurrency world to jump on board with the leading cryptocurrencies, allowing Coinstash to grow quickly and stay in the competition. 
Coinstash Platform
For both personal and organizational crypto investors, the Coinstash trading interface is incredibly straightforward and easy to navigate.
They have a simple interface on their trading platform, making it easy to store, buy/sell and manage their crypto holdings.
Coinstash may also be used as a crypto wallet to keep your digital or crypto savings.
This wallet allows you to withdraw and deposit or transfer Bitcoin, Ethereum, or Ripple (XRP) and receive them from all around the globe.
Coinstash Pros & Cons
Every cryptocurrency exchange has some pros and cons related to different aspects of the digital trading world, it can be related to supported crypto coins, the platform itself, trading fees, payment options, etc.
Below are some mentioned pros and cons of Coinstash Exchange
Pros
Convenient Deposit Methods
Coinstash has made sure to make it easy for you to buy, sell or trade your assets on their platform.
They allow you to use PayID, Osko, BPAY, Cash deposits and other payment options to be added soon.
You can make your purchase or transfer the amount after selling your currency very easily in a few steps, thanks to the simple and easy-to-use interface of the platform.
Coinstash is equipped with the latest security technologies. As it is a relatively new platform all the necessary measures and top-notch software are used to keep your data and assets safe from being hacked. 
Coinstash unlike many other platforms has no hidden fees when it comes to trading, buying, or selling.
They only cut the amount that is written in buy/sell prices mentioned in the spread price. 
When it comes to trading a significantly low fee percentage is cut, which is 0.85%. Which when compared to other platforms, is a very good offer.
Coinstash team thinks that investors need to have support when it comes to financing and resources to succeed.
Therefore, Team offers superior service to customers. 
Online chat assistance is also available to users where different operators help you solve your queries in live chat hours mentioned on the platform.
Coinstash's team has developed a cryptocurrency platform that provides all the information in advance.
Whatever queries you have regarding investment in Bitcoin, Ripple, or Ethereum, the Amazing Customer Support Team supports you to form an opinion on investments.
Cons
Coinstash being a relatively new platform has not implemented globally accepted payment options like PayPal, Payoneer, etc.
You would need to adapt to the supported payment options in order to do transactions.
When you perform a transaction on Coinstash it takes more time than other platforms. This is because all the transactions you make are manually accepted.
So, whenever you do a transaction with external wallets it takes some time to process.
Coinstash doesn't have an extensive list of accepted cryptocurrencies, this also is due to it being a newcomer in the digital trading world.
New coins are being added with time as Coinstash is expanding to give tough times in the market.
Is Coinstash Safe?
Coinstash prioritizes security just like any cryptocurrency exchange in the market right now.
The standard measure for the whole crypto business has been the security choices such as 2FAs, KYC, and MFA's.
Nowadays, exchanges that do not meet acceptable security standards get banned and stopped from further operations.
Consequently, Coinstash has implemented excellent security mechanisms to enable customers to safeguard their currencies without additional dangers.
Coinstash users can protect their data and coins by using MFA or 2FA authentication solutions.
Furthermore, before creating your account on the platform, users must validate their identity.
Coinstash is declared a secure cryptocurrency exchange and got licensed by the Australian Transaction Reports and Analysis Centre (AUSTRAC).
If you plan on using Coinstash you should be aware that you are using a platform that has the support and supervision of Australia's government.
This makes Coinstash one of the safest platforms in the country.
Additionally, there have been zero reports of Coinstash being hacked or any kind of information getting leaked until now.
This concludes that coin stash can easily be trusted to carry on your cryptocurrency adventure.
Transaction Fees
Before selecting your desired trading platform, you need to consider exchange fees.
Low charges can play a key part in trading bigger margin positions and many trades in the same day, which can be harmful to your possible earnings.
One of the main issues in carrying out your research is which approach would get you to make the most profit.
Let's check the charges for Coinstash.
•Trading Fees
Coinstash trading costs are quite reasonable keeping in mind their instant buy function, it is set at 0.85% on each transaction.
•Withdrawal Fees
Withdrawals via AUD are completely free.
If you wish to withdraw via cryptocurrency you will need to pay a small fee depending on the crypto.
Here are the current withdrawal fees for each cryptocurrency:
Setting up your Coinstash Account
It is remarkably simple to set up your Coinstash account.
A valid e-mail address and government authorized document are all you need to start using this platform.
Buying cryptocurrency with Coinstash is easy and can be completed in three steps.
1. Create your Account:
Creating your Coinstash Australia account is very easy and can be done in less than 5 minutes.
This includes a quick identity check which will require a photo ID such as a drivers license or passport.
2. Make the First Deposit:
Once verified you can choose from the multiple depositing methods offered. OSKO/PayID being the fastest methods.
3. Start Buying/Selling/Trading:
Start to Buy Coins, Sell them or trade them with another in a few simple clicks.
Getting Verified on Coinstash
It takes less than a minute to get yourself authorized on Coinstash. 
All you have to do is provide some documents for your identification.
An Australian driver's license is the best way to prove your identity.
Just include your license information and the system verifies the identification instantly. 
Users can also use a birth certificate, foreign passport, or any Medical Card in order to get themselves verified.
If you can't figure out the verification procedure you can always contact the support team in the live chat available from 9am-11pm every day.
Depositing on Coinstash
You need crypto assets to begin trading after you have completed the required verification and signup steps.
You can continue in two ways. Either you can purchase cryptocurrencies using Coinstash Buy / Sell gateway, or your current coins can be placed in Coinstash Wallet.
Note that your Coinstash account is credited by default for any incoming crypto-currency transactions.
Buying Crypto on Coinstash:
Coinstash offers its customers a smooth buying and selling crypto gateway.
It lets users purchase different crypto assets, including BTC, ETH, and XRP using fiat currency which in this case is Australian Dollars.
Cryptocurrencies can be purchased directly via multiple sellers and processors available on the Coinstash platform after being verified.
On the main menu of Coinstash, locate the buy/sell option and then click on it to gain access to the buy/sell portal.
You will notice several options of supported cryptocurrencies and payment methods with which you would pay and receive the payment or coins.
The deposit methods supported by Coinstash on their platform currently are:
BPAY

PayID

OSKO

Cash Deposits
And current cryptocurrency coins that you can buy using Coinstash are listed below.
The number of these coins are increasing gradually:
Bitcoin (BTC)

Ethereum (ETH)

Tether (USDT)

Cardano (ADA)

Ripple (XRP)

Dogecoin (DOGE)

Uniswap (UNI)

Litecoin (LTC)

Chainlink (LINK)

Stellar (XLM)
Trading on Coinstash
To many traders, the chart layout is one of the most effective instruments in their field; thus, when picking a cryptocurrency exchange platform for several traders, chart interfaces are one of the core features they wish to have.
You must be confident with the buy/sell/trade interface, the type of orders, and the tool to analyze when selecting your cryptocurrency trading exchange.
The Coinstash dashboard is unique, everything is carefully presented.
Everything is easy to use.
Users get easy access via a dashboard to open their orders, business history, and many more.
The default user interface is simple and neat looking, it allows users to access data to make a purchase, sell or review pending orders that they placed.
Coinstash Vs Binance
Binance is considered one of the best and most diverse platforms when it comes to the cryptocurrency business. 
Binance is the most awaited comparison for most of the users.
Binance rapidly became the world's largest exchange for cryptocurrencies.
Compare these two and figure out what your bitcoin or crypto exchange should be like. 
•Fees 
Surprisingly, there is a huge difference between the transaction fee of Coinstash and Binance. Binance offers 0.10% per trade transaction and coin stash a crazy 0.85% per trade.
Binance wins this comparison of fees.
However, Coinstash has no low fee when you want to deposit or withdraw your assets and money.
•Cryptocurrencies Supported
Both exchanges provide a comprehensive cryptocurrency support list, but Coinstash is a relatively new platform, falling a little behind compared to Binance, an old veteran.
Coinstash now provides Bitcoin, Ethereum, Ripple, and other different cryptocurrencies for customers to trade on AUD, BTC, ETC, and other significant trading pairs through their platform.
Meanwhile, Binance supports approximately 174 different cryptocurrencies, which customers may trade against different pairs through their app or on their website.
Interestingly, in comparison to Coinstash, Binance allows more than 600 trade pairs of different cryptocurrencies worldwide.
•Trading Platform
After using these platforms, you may notice that they have made a trade as convenient and smooth as possible.
Binance and Coinstash platforms allow users to examine their detailed profile with the appropriate statistics on the dashboard, which are very useful to evaluate your progress quite easily.
Compared to Coinstash's simple, easy approach to buying, selling, and trading, Binance's platform can be somewhat confusing for new users.
Plenty of functionality and choices may be conveniently accessed on Coinstash without confusing complex tools, as in the case with Binance.
•Transaction Speeds
Binance wins here; they allow instant and quick withdrawals on different fiat currencies and several other modes of payment almost instantaneously.
When it comes to withdrawals, Coinstash is a little slower.
You may need to wait up to 24 hours on average compared to 30 minutes for Binance to collect your money.
This is because all the transactions at Coinstash are manually accepted and processed by human operators.
•Mobile app 
out of these platforms, only Binance offers a mobile application, which may be required nowadays.
Binance mobile application is interactive, smooth, and highly developed, and they get their bulk of traffic from smartphones.
However, Coinstash is working on progressing in this department.
The founders of Coinstash have hinted at an expansion of their platform so that we might expect a mobile application and other major updates like new crypto coin support, payment methods, etc.
•Overall
After analyzing both platforms, Coinstash and Binance, we realize how both are different and, in some cases, similar.
Both of these cryptocurrency platforms are for different kinds of users. They both attract a different kind of audience.
Binance mostly supports crypto experts or people who have basic knowledge of it, whereas Coinstash is more like a starters platform where people can learn the basics and excel in the cryptocurrency world.
In Conclusion, if you are a crypto veteran trader or seller, go for Binance and if you are new to this field and want to start working in it, go for Coinstash.
Cryptocurrency in Australia
Australia is one of the world's most cryptocurrency mad countries.
According to Independent Reserve, in a recent survey, one in five Australians is likely interested to invest in cryptocurrencies over the next 6 months.
With so many Australians interested in cryptocurrencies, more than 250 digital exchanges are operational in Australia.
Each Crypto Exchange has various advantages and disadvantages, with each one taking a different approach to its service. 
Some are more appropriate for beginners (with a website and a mobile app that are easier to use), others are better for expert users (with extensive features), and some for people interested in crypto exchange or trading (due to small trading fees).
Newly interested people wanting to invest in crypto might get confused, as you cannot find cryptocurrencies on the traditional Australian investment platforms such as CommSec or NAB Trade.
This suggests that you must pick a safe and certified cryptocurrency exchange to start investing in virtual currency.
Coinstash in a Nutshell
Coinstash is undoubtedly the easiest crypto exchange to navigate that we've seen, making it perfect for beginner crypto traders or people looking to buy their first Bitcoin in Australia.
The simple-to-use interface that is easily understandable even for someone new to the cryptocurrency world is one of the major features of this exchange.
In addition, different crypto coins, including the major Bitcoin, Ethereum, and Ripple, are supported by this platform.
On top of that, Fiat Currency in Australian Dollars is also given to the users to convert their profits and withdraw them easily.
Low fees are another key feature that keeps Coinstash ahead of the competition.
They offer no fees on deposits and withdrawals.
The trading fees are also lower than most of the crypto exchanges in the Australian market.
Customer support is top-notch, and it's easy to see that Coinstash care deeply about their customers.
Considering these features and points, Coinstash deserves to be mentioned in the list of best cryptocurrency exchanges in Australia.