Bybit Review: Get Rewarded for Trading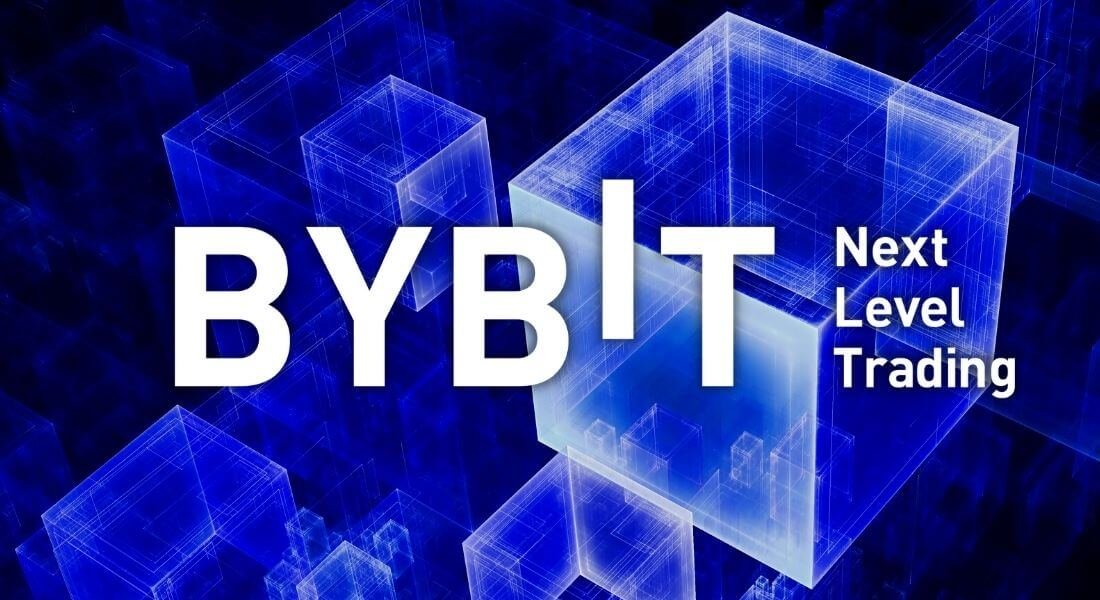 Bybit is a high-powered specialist cryptocurrency derivatives exchange that was established in March 2018.
Excellent 24/7 customer service, a high-powered trading system, an airtight multi-layered security system and extremely low trading fees are the core foundation of Bybit.
It's no coincidence that over 2 million happy customers choose Bybit as their go-to crypto exchange.
Bybit, one of the fastest-growing cryptocurrency derivatives trading platforms and is redefining how consumers trade digital currencies and other digital assets.
Due to its capacity to accommodate 100,000 TPS, the platform leaves you without any overflow during transactions.
Furthermore, Bybit supports several languages like Chinese, English, Traditional Chinese, Chinese, Japanese, and Korean and is appreciated by everybody worldwide.
When you are starting on the platform, you will have two kinds of contracts available to you:
Inverse perpetual contracts
USDT perpetual contracts
With an inverse perpetual contract, the trader may trade Bitcoin (BTC), Ethereum (ETH), Ripple (XRP), and EOS, among other cryptocurrencies.
The underlying crypto must be used as a margin for the trade of relevant contracts with an inverse perpetual agreement.
For USDT perpetual contracts, on the other hand, you will have USDT as your margin.
Because they are linear contracts, this is a great choice for a first-time trader.

ByBit is one of the only cryptocurrency exchanges that rewards its users just for trading!
Users of this exchange enjoy a constant flow of trading rewards that are automatically credited to your portfolio as you complete each task.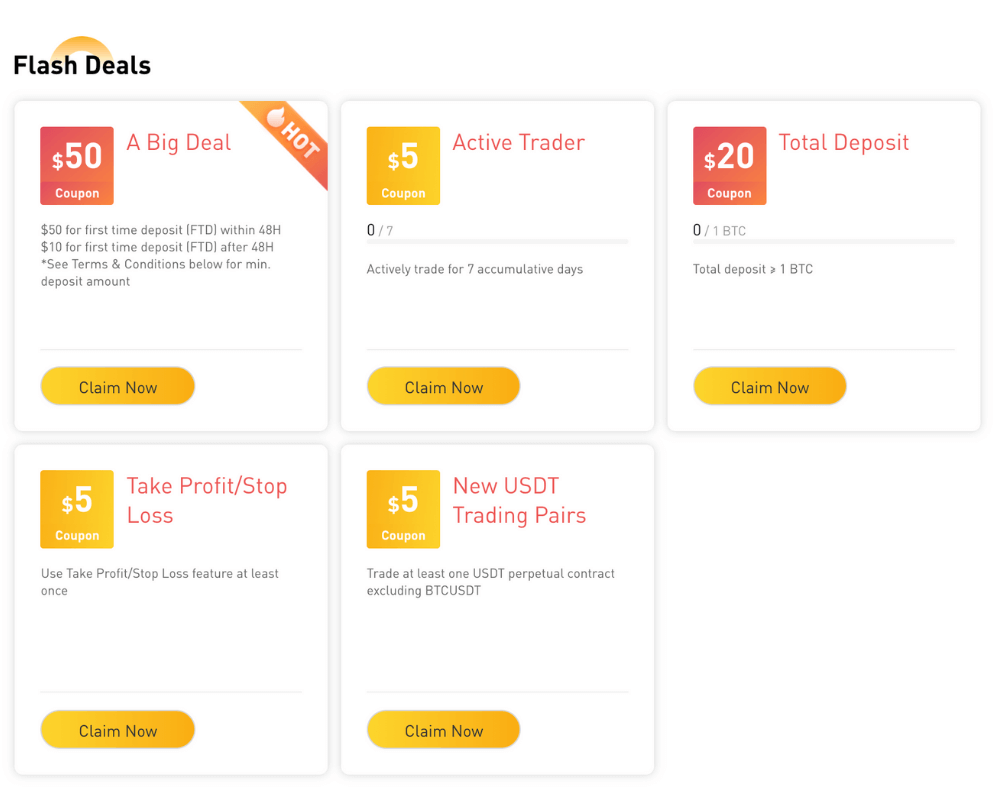 Powerful Trading Platform
Bybit's trading platform is also among the easiest to use on the market today.
When a user logs in, they are welcomed with a user interface (UI) that is modern and easy on the eyes and quick access to all the important tools a trader needs.
You will love the simplified setup if you're coming from an established exchange like Binance or Bitmex.
In addition, you will be impressed with the app's comprehensive capabilities despite its focus on an easy-to-use platform.
The platform offers features for both entry-level traders and seasoned traders.
Advanced traders can use trading tools and indicators, and charts from TradingView to conduct detailed analysis to maximise their gains while minimising the risk.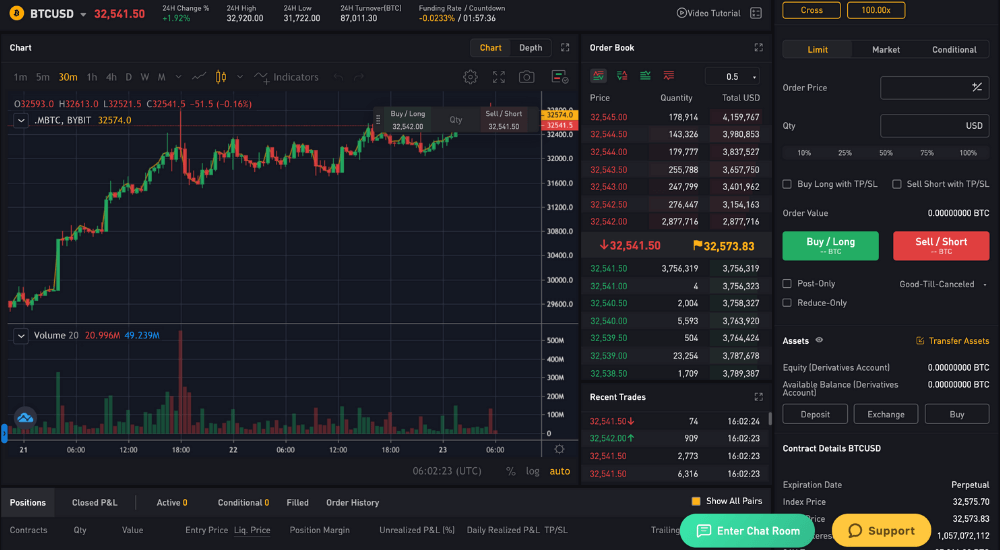 Bybit have recently released their spot trading platform, and we must say, we're very impressed.
To promote the new platform, Bybit isn't charging any maker fee whatsoever, yes, spot trading as a maker is absolutely free from any fees!
We highly recommend taking advantage of this great offer while it lasts to maximise your trading profits.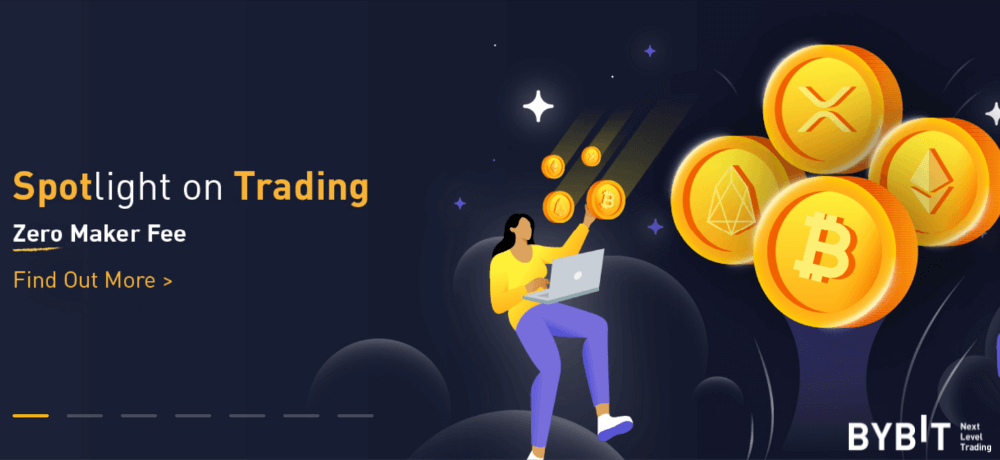 You can use the following ByBit Data Analysis tools:
Price Moving Averages: This shows both the current bitcoin price and several moving average indicators per time interval.
Monthly Price Range: This component investigates the monthly highs and lows in the price of an instrument to illustrate the volatility of an asset.
Rolling Volatility: In this indicator, the realized volatility over the last 30 days is compared to the period average.
The idea is to give traders a sense of how much the price fluctuated over a particular period.
BTC Daily Realised Volatility: This indicator represents the volatility in real-time.
The Bybit tech team has created a host of other indicators, metrics, and data points that you can examine through the tabs.
A detailed description of the index price, funding data, and insurance fund is provided as well.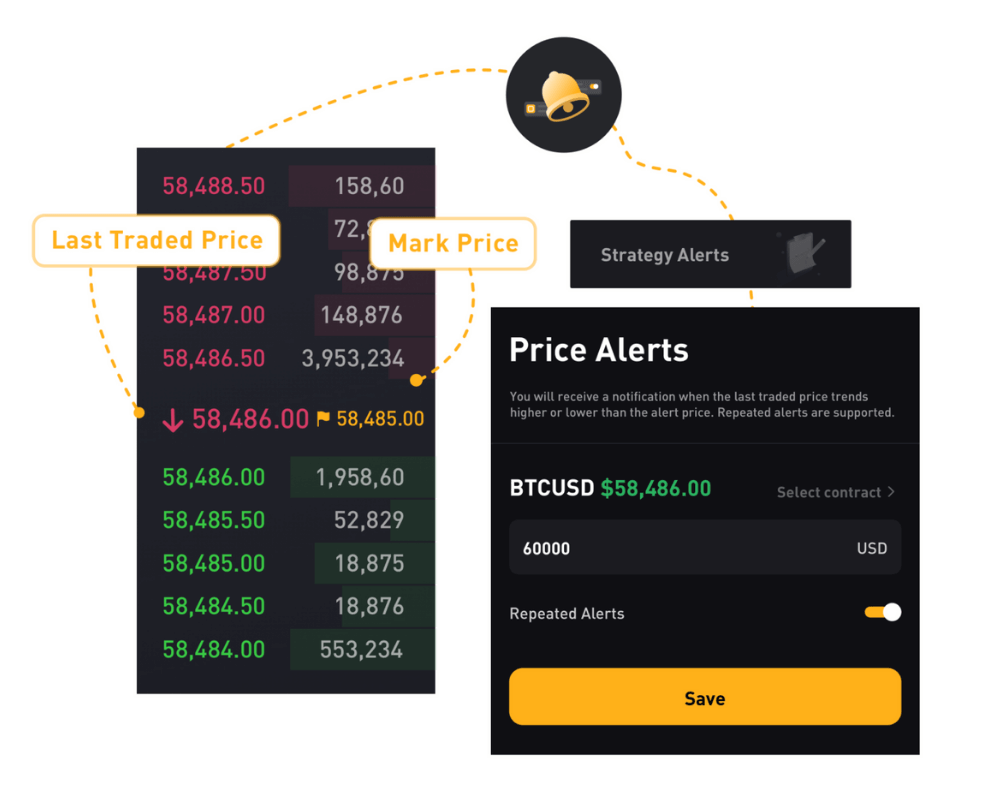 ByBit provides a simple and easy-to-use application with a plethora of fantastic features all in one spot.
The software features a clean design and provides a user-friendly experience in an uncluttered environment.
The software is straightforward and fast to set up, with no additional learning process, so you can quickly have it up and running on Android and iOS.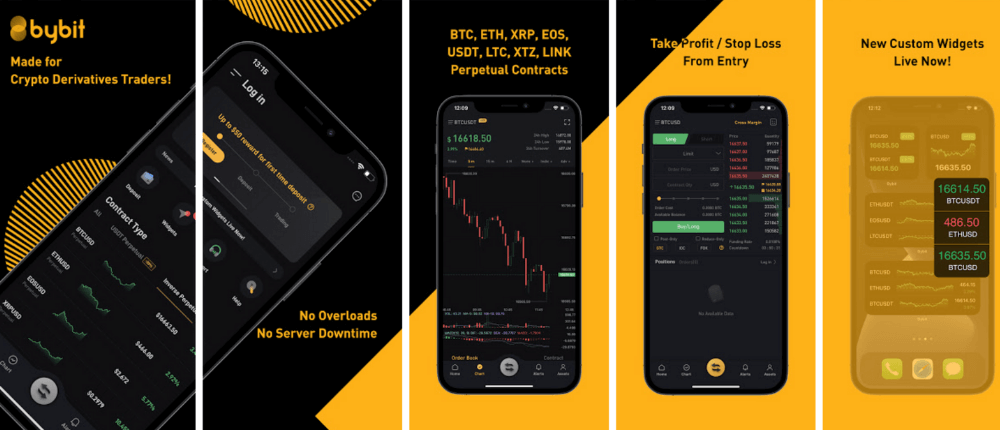 Bybit offers entry-level traders a great starting point to conduct demo trades before actually investing money into trades.
It offers a virtual account to users where they can make different trades, which are based on real-time market pricing.
Once users feel confident, they can signup for an actual account and start trading on the platform.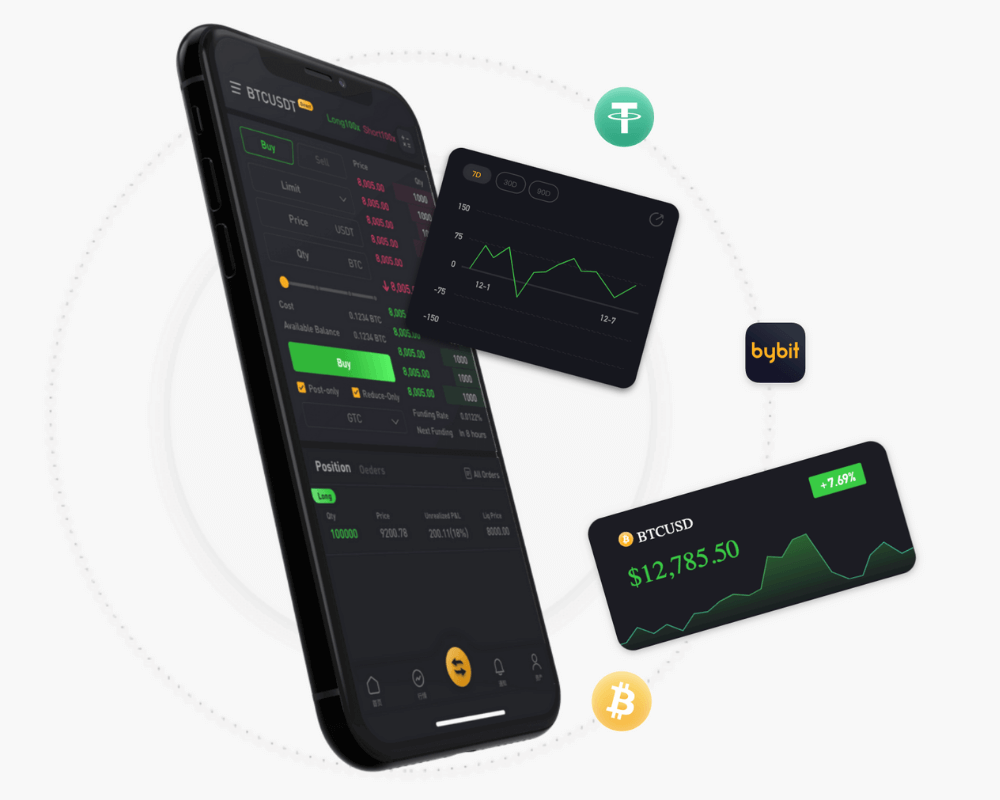 The platform's fees are divided into two categories: market maker and taker fees.
So, Bybit costs vary depending on the kind of order put (market or limit order), and they are as follows:
The Maker Trading Fee is 0.025%
The Taker Trading Fee is 0.075%
Deposit & Withdrawal Fees
When it comes to depositing cryptocurrency to exchanges, Bybit does not charge any fees.
When withdrawing funds from Bybit, a minimum Bitcoin network fee is imposed, determined by the blockchain network load, which is generally about 0.0005 BTC.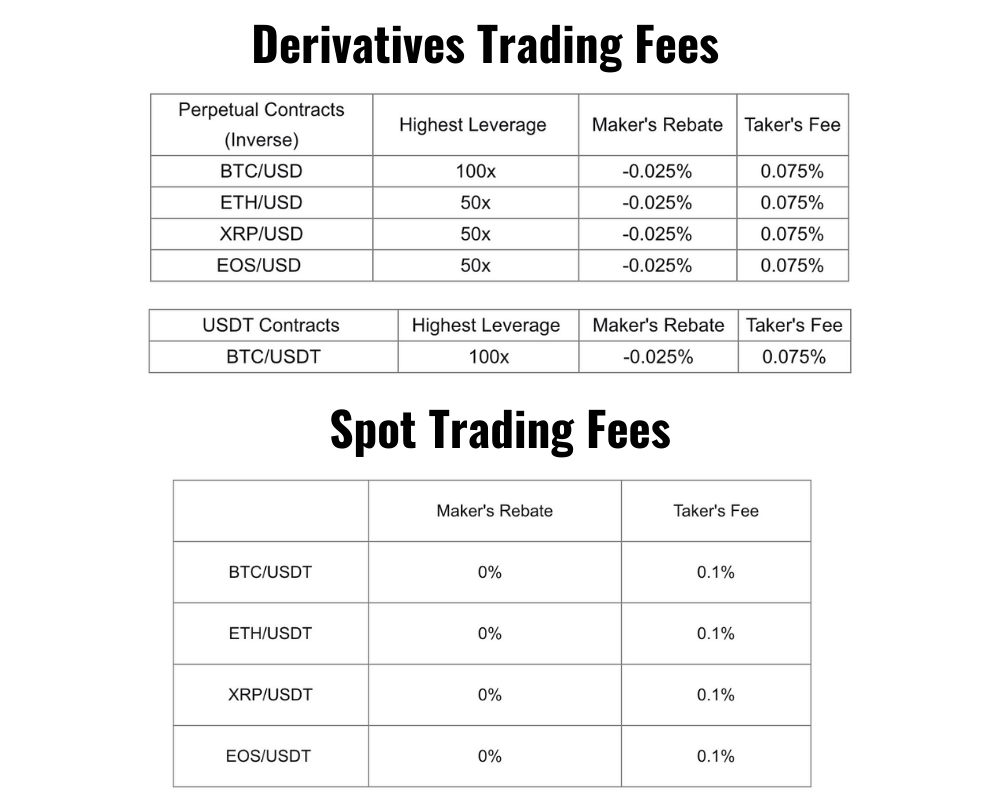 The Bybit platform offers high-quality features which cater to the needs of any trader.
Although ByBit, like BitMEX, Kraken, Coinbase, and other rivals in the industry, has never been hacked.
You should bear in mind that you are entrusting your funds to the exchange anytime you make a deposit.
The most excellent part of ByBit exchange is that they keep all of your assets in cold storage.
As per their site, they will even completely pay its clients for any losses in the event of a breach.
Because of this, you won't have to worry about anything while utilising ByBit exchange.
It is not required to complete KYC to utilize the platform's services, but it is highly recommended.
In the absence of KYC, you will not be able to withdraw more than two Bitcoins per day.
Consequently, if you want to increase your withdrawal limit, you must provide personal information to the exchange for KYC verification.
KYC verification occurs on two levels at Bybit:
Level 1
You'll be able to increase your daily withdrawal limit to 50 BTC after Level 1 verification has been completed. 
You will need to provide the following information to complete your Level 1 verification:
A document of identification (such as a passport or an identification card) issued by the country of origin

Facial recognition as a screening method
Level 2
Level 2 verification entitles you to an increase in your daily limit to 100 bitcoins.
You must provide evidence of your home address to qualify for this level of verification.
The following documents are acceptable as proof:
Detailed Bank Statements

Bill for utility services

Documentation from the government proving your residence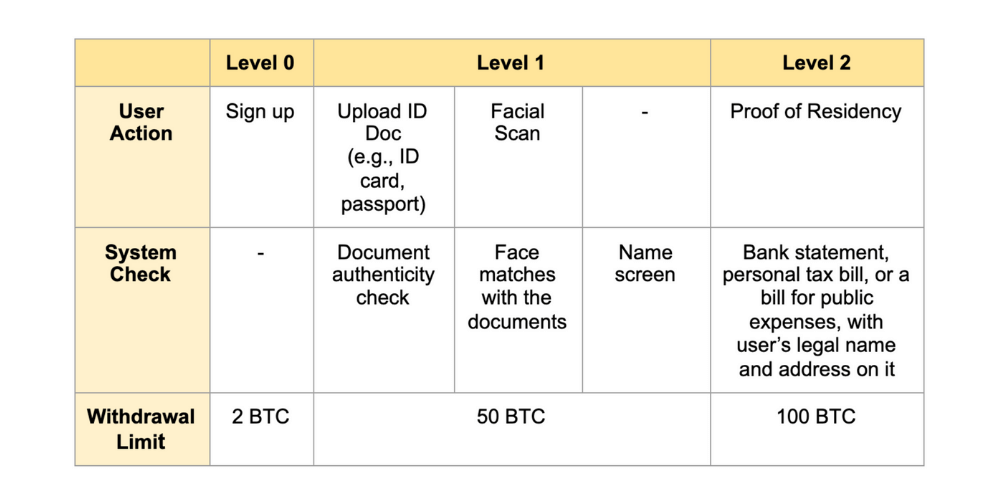 Bybit KFC Verification Guide
Following these steps, you can verify your Bybit account easily once you create a new account:
To access Account & Security, go to the upper right-hand corner of the screen.
Press on "Verify Now", which appears under "Account Information" in the "Identity Verification" column.

Please click "Verify Now" under level 1 and level 2.

Following your chosen level, provide the information described above.
To protect users from losing their funds in a futures contract settlement, Bybit offers a contingency fund that minimises the possibility of automatic-deleveraging in the case of liquidation.
With the insurance fund, traders will be protected if ByBit cannot liquidate a position at Bankruptcy price or a higher level of compensation.
Funds from the insurance fund will be utilised to make up for any shortfalls in these situations.
The platform also shows inflows and outflows and the current balance on its website to reassure traders.
Bybit has one of the most lucrative referral programs on the market.
Referring a friend to join the exchange will earn yourself and your friend $20 each.
In addition to this generous referral bonus, you will also go into a draw to win up to $500!
It's easy for families or friends who wish to earn a passive income by trading to share their unique referral code.
Bybit is a reliable, leveraged exchange that you can trust. 
Whether you're an experienced trader or just starting out, Bybit has trading options for you.
Excellent customer service, high leverage, a powerful trading platform and constant trading rewards are what separates Bybit from the crowd.